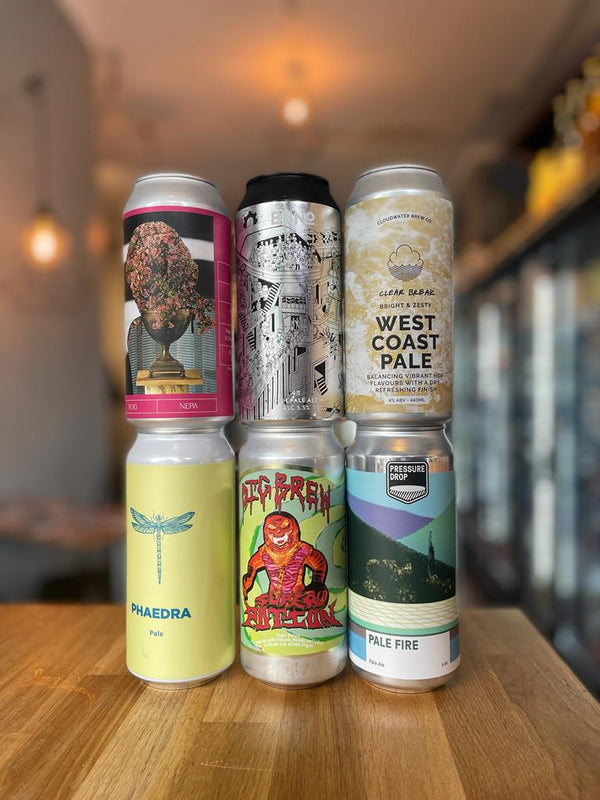 Our team worked hard to select six exciting beers for this special pale ale box. It has all the flavour profiles that you are looking for in a mix of pale ales. Bright and balanced beers as well as hoppy and rich flavours. You will defiantly enjoy this selection. 

In your Box you will find following fantastic beers: 

Pressure Drop -Pale Fire, American Pale Ale, 4.8% ABV., 440ml.

Sessionable, with tropical aromas from the Mosaic and Amarillo hops, it is a juicy pale with a balanced bitter finish.

Cloudwater - Clear Break, West Coast Pale, 4% ABV, 440ml. 

Inspired by the classic Pale Ales of America's West Coast, with a subtle modern twist. This is an exercise in balance, drinkability and sheer ease of enjoyment. Fresh, vibrant hop aromatics find equilibrium alongside a clean, dry and lightly bitter finish.

Allergens - Gluten Wheat Barley Oats.


Vegan friendly.

BBNo - 42 at Morden Wharf, DDH Pale Ale, 5.5%, 440ml.

This bold DDH Pale Ale was brewed to toast the site of our new brewery at Morden Wharf, Greenwich Peninsula. Our latest project will transform this iconic riverside warehouse into a destination brewery, taproom and rooftop bar. This unique location sits on the banks of the Thames and Greenwich Beach, surrounded by a rich community of friends and like-minded businesses.

Phaedra- Pale Ale, 5.3% ABV., 440ml.

I'm gonna open up your gate,
and maybe tell you about
Phaedra. Core range Pale
is the sort of beer that bears repeating, time and again.

Dig Brew - Super Potion Pale Ale, 5.5% ABV, 440ml.




Our staple pale ale potion beefed up to 5.5% and with Sabro hops added into the mix alongside Mosaic and Chinook. 

Chinook, Mosaic & Sabro.


Contains: Gluten, Wheat.

Vegan.

Gan Yam - FOG, New England Pale Ale, 5% ABV, 440ml.

Our first NEPA and a proper juicy brew at that. A ram-jam brewers buckets worth of Centennial, El Dorado and Mosaic in here.