Canopy - Swirl | Belgian Blonde Ale Cognac Barrel Aged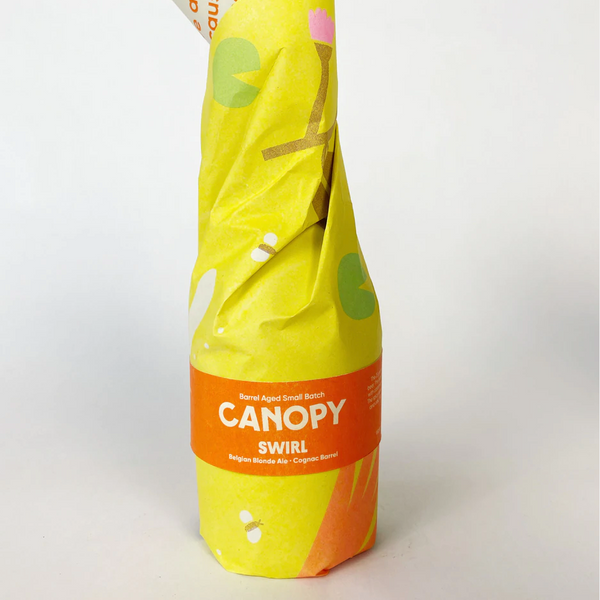 Canopy - Swirl, Belgian Blonde Ale Cognac Barrel Aged, 11% ABV.
A special beer for a special time of year! One of our trio of barrel aged releases, this is an 11% Belgian Blonde Ale that has been aged in a Cognac barrel. The barrel brings the rich aroma of cognac to the nose, with caramel, vanilla and notes of citrus and acacia honey. The spicy esters of the beer meld with the cognac and oak to give a warming, boozy experience.

Presented in a limited edition printed keepsake bottle with a Riso print wrap, this is a fully plastic free product and a perfect gift option (also available in a 3-bottle gift pack with our other barrel aged releases) - or a present to yourself. You have been good this year, haven't you?!
Adventures in fermentation:
Sometimes, you just need to slow down. When you allow an idea to sit, it will grow and develop. Same for beer. Here we have created something that takes time. Beer allowed to rest and develop in barrels. Wood as an ingredient. Barrels with history and previous inhabitants bring rich and exciting flavours. But only if you wait. This is a project that can't be rushed, with results that can't always be predicted. These are single barrel beers - no blending, no mixing.